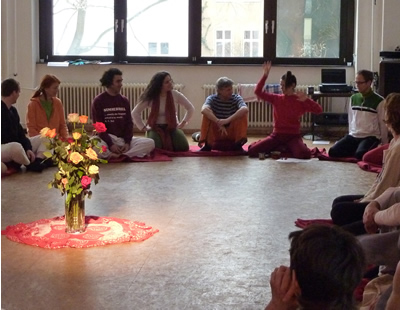 David will be teaching Sacred Yes (Rivers of Love Therapeutic Bodywork demonstration) and Sacred No (FAST Defense Personal Safety demonstration) at Xplore Berlin 2016.
SACRED "YES"
In this workshop David will present RIVERS OF LOVE, system of intimate therapeutic bodywork bodywork for couples. A 30 minute lecture and demonstration will be followed by a Rivers of Love hands-on class, teaching how to initiate and increase sexual arousal through bodywork on the neck, including a theoretical explanation of its effect on the Vagus (10th cranial) nerve and the nervous system.
SACRED "NO"
This is a personal safety and self defense class based on the work of Matt Thomas, Bill Kipp, and Sanford Strong. David will do a demonstration of the high-adrenaline, full-contact, scenario-based training taught at the Earth Medicine Institute. We will then discuss personal safety, the mindset of a predator, and practice techniques that use voice and body language to deescalate a dangerous situation.
http://www.xplore-berlin.de/index.php/en/david-bruce-en-16#YES
WHEN:
July 22, 2016 – July 24, 2016
all-day
WHERE:
Alte Boerse Marzahn
Marzahn
Berlin
Germany